Product Highlights
Natural ingredients grown and harvested by hand in Australia
Supports sustainable farmers who protect our rainforests
Subtle natural flavour that mixes well with any food or drink
90-day money back guarantee with every order
9.5g serving size — 1-month supply per jar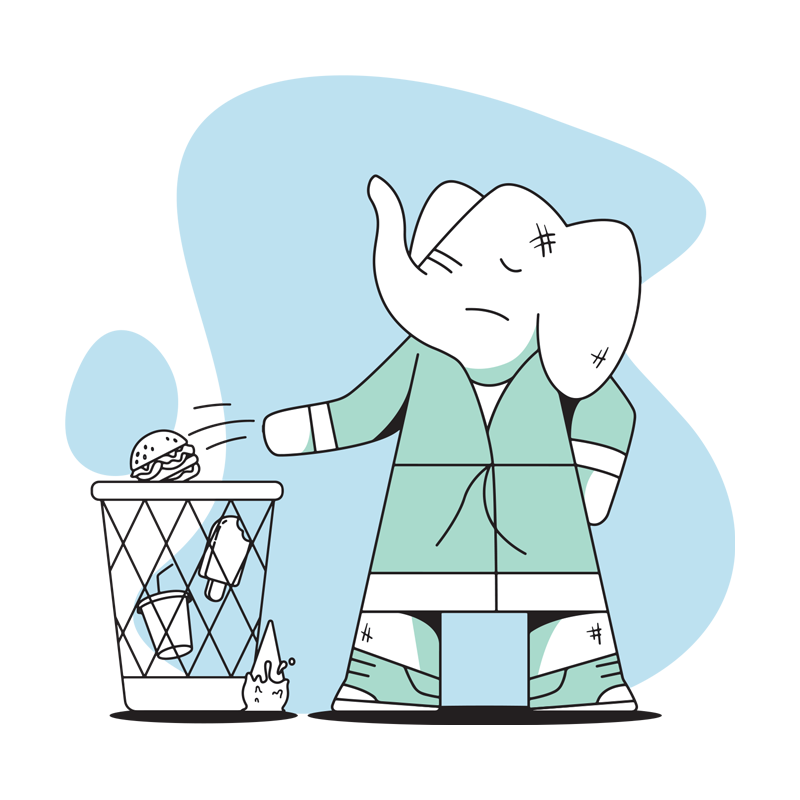 Promotes Optimal Immunity 100% Naturally
The formula contains the most potent natural sources of immune-boosting nutrients in the world, grown and harvested on sustainable farms in Australia. Every ingredient has been scientifically proven to help boost immunity naturally and safely with targeted vitamins, minerals and antioxidants.
Helps Deliver 6x More Vitamins and Minerals
The natural Ultrapotent Absorption System in the formula has been shown to help the body absorb more than 6x the amount of vitamins and minerals than other supplements—all by delivering the nutrients directly into the bloodstream where they can help target viruses and bacteria.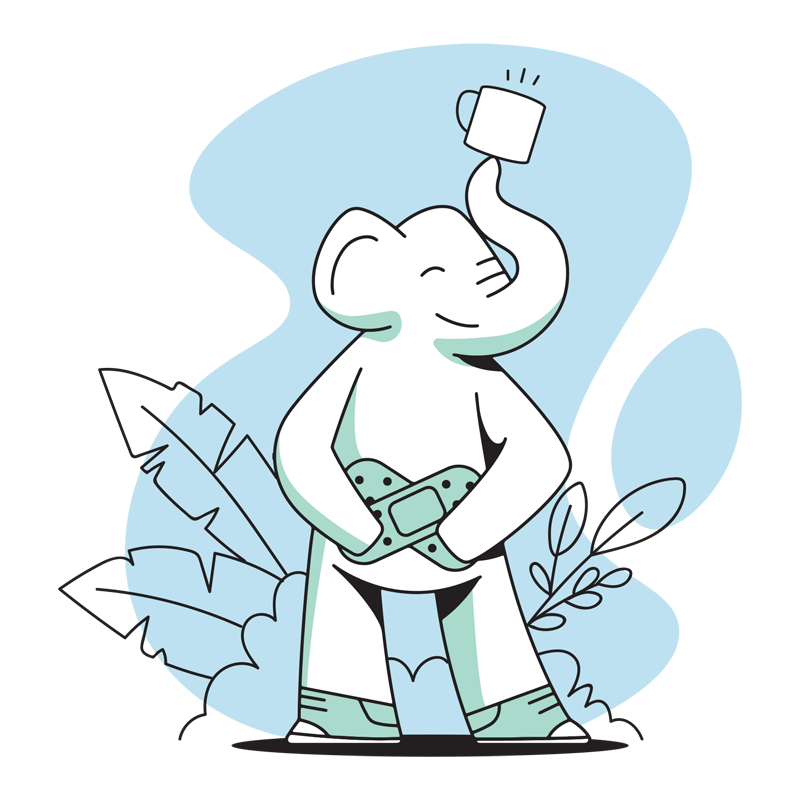 Reduces Inflammation and Premature Aging
The ingredients in Happy Immunity are not just rich in vitamins and minerals, but also in specific natural compounds that help lower inflammation and protect the body against chronic diseases. They also support the production of collagen—which is proven to improve skin, hair, and joint health.
Before and After Stories Directly From Our Customers
The Health Benefits of Happy Immunity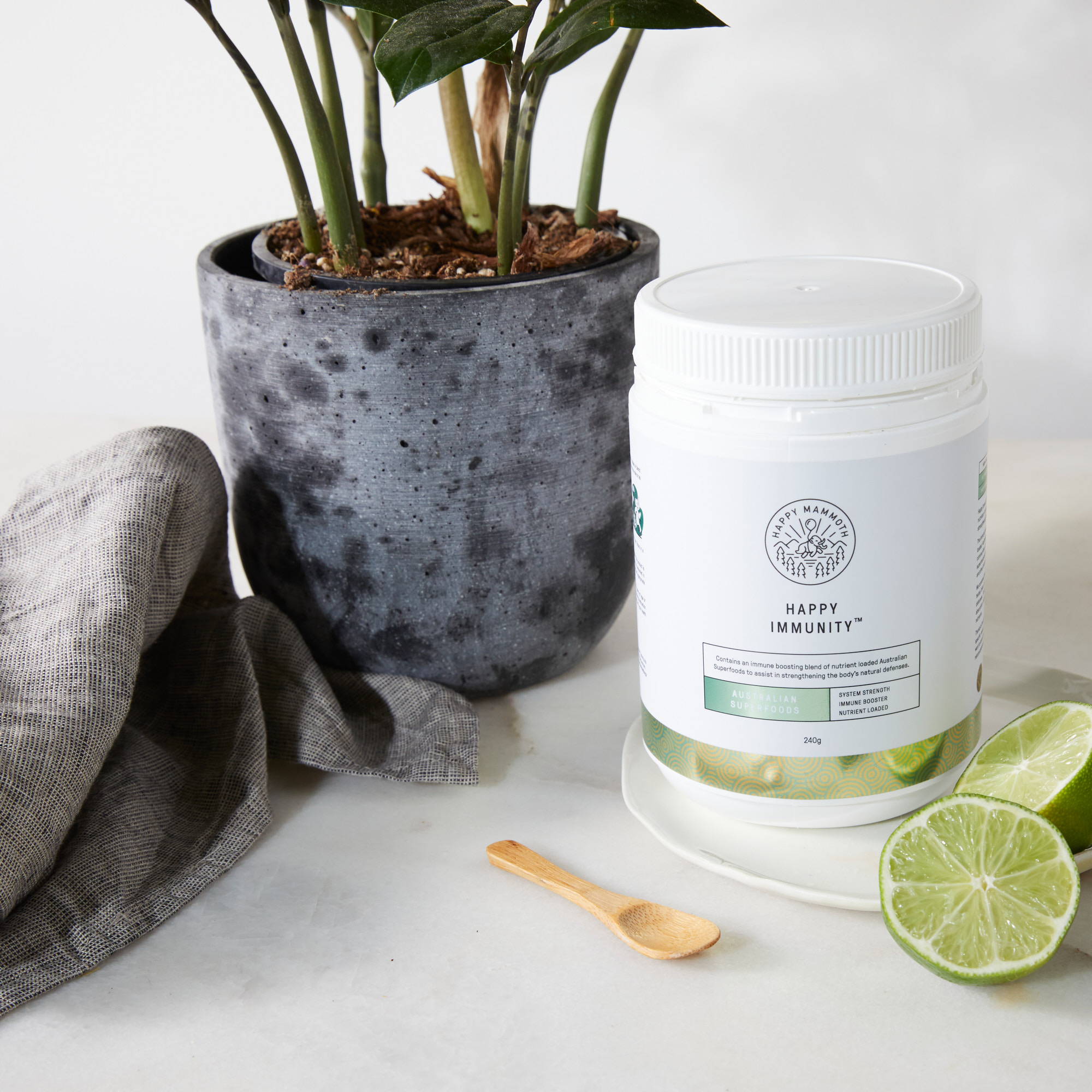 What It Does and How It Does It
Happy Immunity is the only formula that contains Australia's most potent natural sources of immune-boosting ingredients…
Boasting 100x more Vitamin C than oranges and 5.6x more antioxidants than blueberries PLUS a unique Ultrapotent Absorption System that delivers 6x more nutrients than regular supplements!
How is Happy Immunity Different from Most Vitamin Supplements?
The vitamin supplements found on the market are either sourced in shady factory-like "labs" located in countries with loose supplement regulations, or they leave out at least ONE critical factor that affects immunity…
So we decided to use all our secret knowledge and connections to develop the best immunity formula in our certified facility.
This is how we got special access to the 4 highly-rare ingredients grown and harvested in Australia, according to the strict regulations of our country… and this way we get to support local sustainable farmers who work hard in the scorching heat to preserve our rainforests.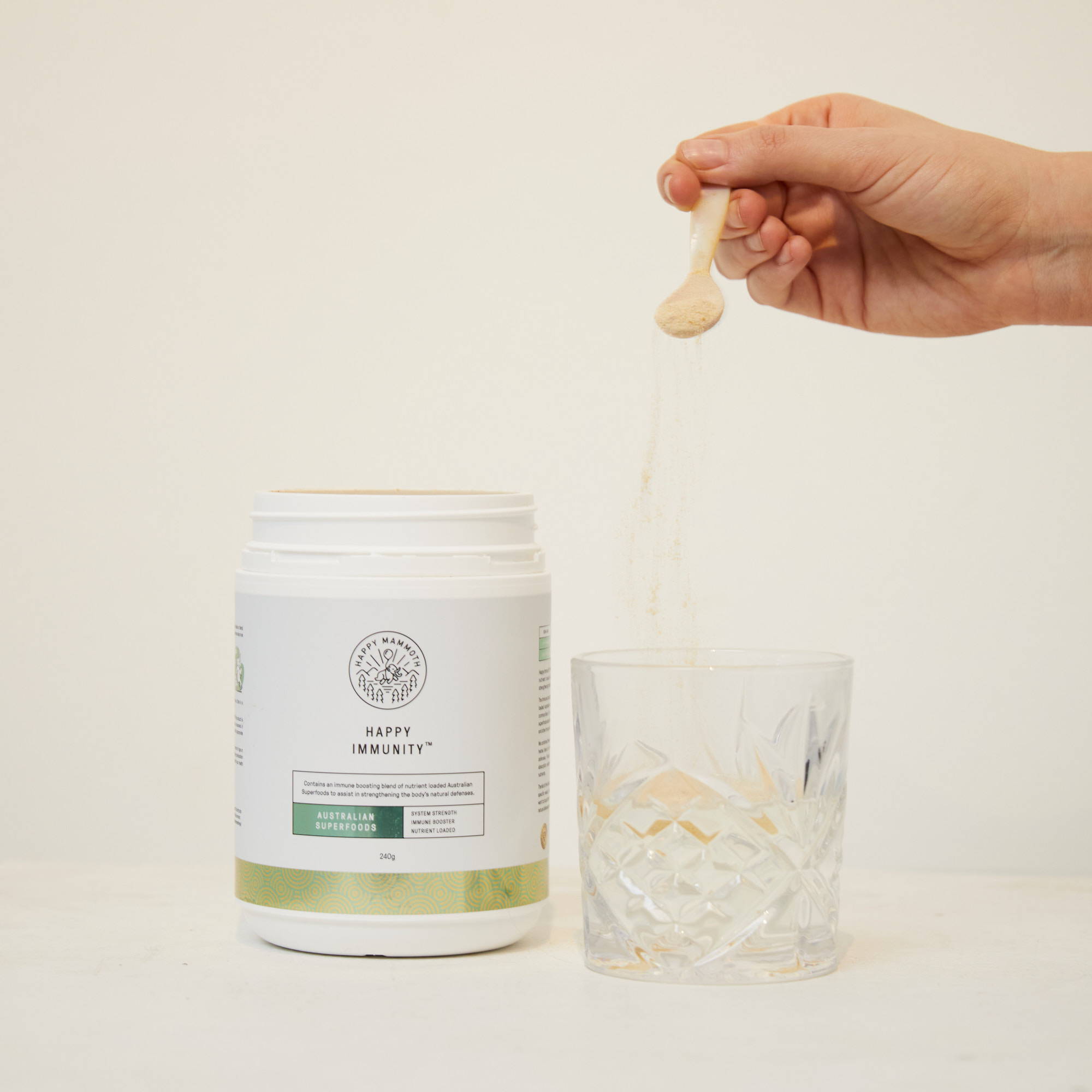 * Easy to understand summarised scientific studies *
The Science Behind Deep Sleep Mode
The Kakadu Plum boasts the highest amount of Vitamin C of any natural source in the world. It contains 100x more Vitamin C than oranges and 5.6x more antioxidants than blueberries. Studies show that consuming more Vitamin C can increase your blood antioxidant levels by up to 30%.
The Finger Lime is highly rich in Folate, which plays a critical part in making and repairing DNA. Damages to the DNA can severely weaken the immune system and encourage the development of diseases, so this natural resource is essential in boosting immunity and improving overall health.
The Kakadu Plum is also a great source of iron and copper, both of which are essential minerals that help boost the body's natural defences. And with maximum absorption naturally activated by the Vitamin C, the immune system will be ready to fight against any harmful pathogens and stop them from causing dangerous infections.
Ashwagandha helps the mind take control over stress and anxiety by inducing a deep sense of calm and stability, while also boosting energy levels in a natural and healthy way. This way, both the body and mind can sail through stressful times with more ease, without losing control.
The Davidson Plum has a high amount of antioxidants that naturally support the immune system and help boost brain power. It's also rich in Vitamin E which amplifies the production of white blood cells—the natural "killer cells" that fight viruses and bacteria.
The natural Ultrapotent Absorption System based on Liposomes helps the body absorb more than 6x the amount of vitamins and minerals. Liposomal Vitamin C can also improve skin elasticity and reduce the appearance of fine lines and wrinkles compared to regular supplements.
The Australian 'Manuka' Honey was clinically tested and confirmed to have "medical grade" antibacterial and antiviral properties. It's all thanks to its high levels of Methylglyoxal—the natural compound that can only be found in 'manuka' types of honey and that's proven to help the body fight against dangerous viruses, bacteria and other pathogens.
MCT Oil is one of the most effective forms of liposomes, helping to deliver more nutrients from the formula directly into the bloodstream where they can better support the immune system. MCT Oil is optimally absorbed and easily digested, making it an excellent fuel for the body that turns lipids into energy and stamina rather than storing calories in the body in the form of fat.
Pioneering World-Leading Quality Standards & Testing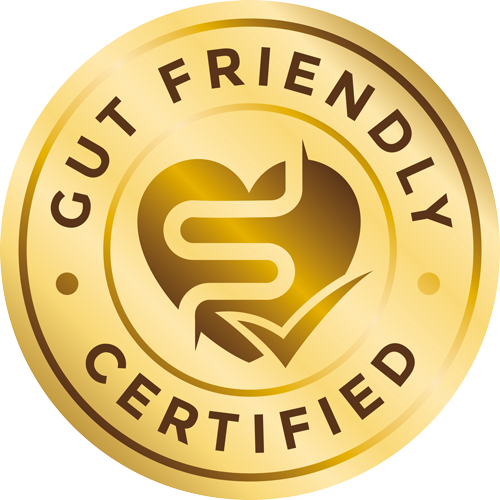 ---
Know with absolute confidence that Happy Immunity is free from the established 69 known gut irritants.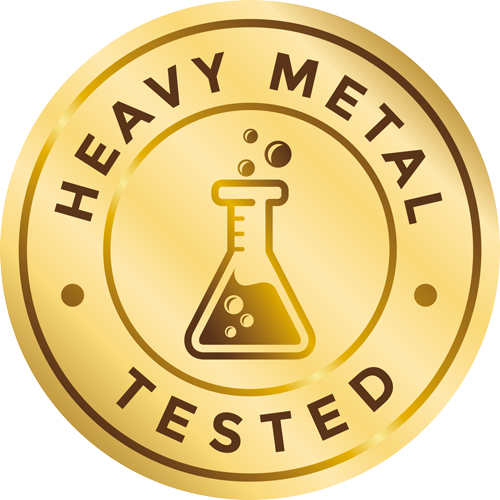 ---
Know with absolute confidence all ingredients have been examined for Heavy Metals using world class testing methods.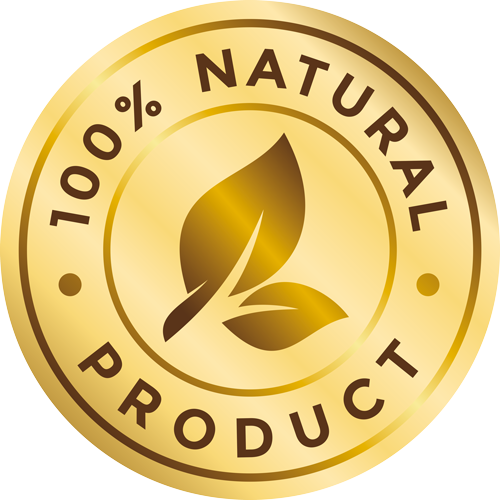 ---
Free from artificial fillers, preservatives, artificial sweeteners, binding agents and other additives your body doesn't need...
Frequently Asked Questions
How do I use this product?
There are so many ways you can use this versatile product:
You can drink it with a glass of water, mix it in smoothies, or add it to your coffee or tea. You should mix, shake or blend one scoop in the liquid of your choice once per day or as needed.
You can take it first thing in the morning to get your vitamin kick or before bedtime to help sleep better during the night. You can also take it when you feel sick or rundown to recover faster or when you feel stressed and want more calm and positivity in your life.
Can I use this with other products?
Yes, you can use Happy Immunity with Prebiotic Collagen Protein and Hormone Harmony for maximum results.
Prebiotic Collagen Powder supports digestive health, which plays a critical part in immunity since about 79% of our immune system is found in the gut.
Hormone Harmony was developed to balance the delicate hormonal system that is directly linked to how well the immune system functions.
While you can take Happy Immunity together with Prebiotic Collagen Protein, you may want to take Hormone Harmony separately, at the time of day that suits you best.
What are the ingredients in this formula?
Happy Immunity contains Australian Manuka Honey extract, Australian Orange powder, MCT Oil powder from Coconuts, Australian Kakadu Plum powder, Australian Davidson Plum powder, Australian Finger Lime powder, Ashwagandha Root extract [4:1], Organic Apple Cider Vinegar powder, Liquorice Root powder, and Bamboo Silica.
All the ingredients have been carefully selected and optimally-dosed for high potency, according to scientific studies that back up their critical role in boosting the immune system.
Where is the formula produced?
Happy Immunity is produced in small batches to maintain ultra high quality levels in a HACCP and International Standards 9001 Certified facility in sunny Queensland, Australia.
Over 92% of the ingredients are grown and harvested on Australian sustainable farms.
How does the formula taste?
Happy Immunity has a subtle fruity taste that mixes perfectly with any food or drink without altering their flavour. This makes it good enough to mix with smoothies, add to a cup of coffee or tea, with a glass of filtered water, topped on your breakfast or even used for baking.
Customers that bought Happy Immunity™ are also buying: